If your Speedometer Gauge, gas Gauge, Tachometer or any other gauge is in your vehicle is not working correctly, we can solve your problem!
(La traducción en español de la parte inferior de esta página!)
The price for the GMC Envoy Cluster Repair starts at only $169!
Please do not waste your money and time on the fly-by-night "techs" who pop up offering to rebuild your instruments for a lower price. I have spent hours undoing the problems caused by DIYers gone "pro". We do this full time. This is all we do and we are the best in the Atlanta area!
We can repair/ REBUILD YOUR WHOLE CLUSTER / INSTRUMENT PANEL / COCKPIT / GAUGES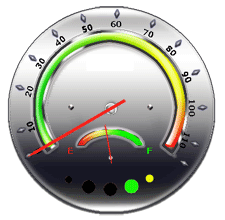 Are you having problems with the Gauges (Speedometer, Tachometer, Gas, Temp, Battery, Oil, and Transmission temp) in your 02-07 GM or GMC (Car or Truck) vehicle?
*Needles fluttering, sticking, reading incorrectly (120 MPH), or just refusing to work?
*Speedometer stuck at 120mph
*Speedometer erratic or jumpy
*Speedometer nonfunctioning
*Other gauges not functioning
We have the solution to take care of that problem for life of your vehicle
If you have any other problems or other gauges that aren't functioning, Please call us at 770-509-4862 Monday Through Saturday from 9am until 6pm
We can REBUILD YOUR BAD instrument cluster for the following vehicles:
Buick Instrument Clusters
LeSabre 2003, 2004, 2005, 2006
Rainier 2004, 2005, 2006
Rendezvous 2003, 2004, 2005, 2006
Cadillac Instrument Clusters
Escalade 2003, 2004, 2005, 2006
Chevrolet Instrument Clusters
Avalanche 2003, 2004, 2005, 2006
Cavalier 2002, 2003, 2004, 2005
Impala 2003, 2004, 2005
Kodiak 2003, 2004, 2005, 2006
Malibu 2003, 2004, 2005
Monte Carlo 2004, 2005
Silverado 2003, 2004, 2005, 2006
SSR 2004, 2005, 2006
Suburban 2003, 2004, 2005, 2006
Tahoe 2003, 2004, 2005, 2006
Tracker 2003, 2004
Trailblazer 2002, 2003, 2004, 2005, 2006
Venture 2003, 2004, 2005
GMC Instrument Clusters
Denali 2003, 2004, 2005, 2006
Envoy 2003, 2004, 2005, 2006
Sierra 2003, 2004, 2005, 2006
Top Kick 2003, 2004, 2005, 2006
Yukon 2003, 2004, 2005, 2006
Hummer Instrument Clusters
H2 2003, 2004, 2005, 2006
Isuzu Instrument Clusters
Ascender 2003, 2004, 2005, 2006
Oldsmobile Instrument Clusters
Bravada 2003, 2004
Silhouette 2003, 2004
Pontiac Instrument Clusters
Aztek 2003, 2004, 2005
Bonneville 2003, 2004, 2005
Grand AM 2003, 2004, 2005
Grand Prix 2003, 2004, 2005
montana 2004, 2005
Sunfire 2003, 2004, 2005
FAQs:
1. Q: How long does the process take?
We offer a 24 Hour Turn-around and on-site service is available by appointment!

2. Q: Will my mileage change?
A: No. Your vehicle mileage will not be affected.
3. Q: Do you have a warranty? How long is it?
A: Yes, our standard warranty is 5 years or 80,000 miles and we stand behind our work 100%.
YOU WILL GET A FULL REPLACEMENT OF ALL EXISTING MOTORS!:
- ALL OF THE MOTORS ARE GOING TO WEAR OUT SOONER OR LATER SO WE DO IT RIGHT THE FIRST TIME!
Our competitors may offer services starting at $90-100 but this is for the replacement of only ONE motor! You will have to take it back before you know it and do this all over again!
We do it right the FIRST time!
Repair procedure……
*You can bring your cluster to Our office.
*The cluster will be disassembled and cleaned.
*We will replace all bad stepper motors with the new and updated versions.
*The speedometer will be calibrated when done.
*This comes with a 5 year warranty on all parts and labor!
Our service is not the cheapest you will find but this is quality work with the best motors on the market and you get a LOCAL WARRANTY!!
ONCE AGAIN! WE DO NOT REPLACE ONLY THE MOTOR THAT IS CURRENTLY FAULTY AS ALL THE MOTORS WILL FAIL AT SOME POINT!
Call us Monday through Saturday to schedule your GMC Envoy Cluster Repair!
770-509-4862
Classic Speedometer Repair
www.classicspeedo.com
Nota: Esta traducción se ha realizado a través de Google Translate. Nosotros no hablamos español, así que usted tendrá que encontrar a alguien para que le traduzca al llamar a nuestra oficina. Gracias por su comprensión!
Si el velocímetro, indicador de gasolina, tacómetro o cualquier otro indicador está en tu vehículo no funciona correctamente, podemos resolver su problema!
El precio de esta reparación comienza en sólo $ 169!
Por favor, no pierdas tu tiempo y dinero en los fly-by-night "técnicos" que aparecen ofreciendo a reconstruir sus instrumentos a un precio más bajo. He pasado horas deshaciendo los problemas causados ​​por DIYers ido "pro". Esto lo hacemos a tiempo completo. Esto es todo lo que hacemos y somos los mejores en el área de Atlanta!
Podemos reparar / reconstruir su grupo completo / PANEL DE INSTRUMENTOS / BAÑERA / INDICADORES
¿Está teniendo problemas con los Medidores (velocímetro, tacómetro, gas, temperatura, batería, aceite, y la temperatura de la transmisión) en el 02-07 GM o GMC (coche o camión) del vehículo?
* Agujas aleteo, pegado, leyendo incorrectamente (120 MPH), o simplemente negarse a trabajar?
Velocímetro * estancado en 120 mph
* Indicador de velocidad irregular o jumpy
* Indicador de velocidad no funciona
* Otros calibres no funciona
Tenemos la solución para atender ese problema para la vida de su vehículo
Si usted tiene cualquier otro problema o medidores otros que no están funcionando, por favor llámenos al 770-509-4862 de lunes a sábado de 9 am hasta las 6 pm
Podemos reconstruir su cuadro de instrumentos BAD para los siguientes vehículos:
Buick grupos de instrumentos
LeSabre 2003, 2004, 2005, 2006
Rainier 2004, 2005, 2006
Rendezvous 2003, 2004, 2005, 2006
Cadillac grupos de instrumentos
Escalade 2003, 2004, 2005, 2006
Chevrolet grupos de instrumentos
Avalancha 2003, 2004, 2005, 2006
Cavalier 2002, 2003, 2004, 2005
Impala 2003, 2004, 2005
Kodiak 2003, 2004, 2005, 2006
Malibu 2003, 2004, 2005
Monte Carlo 2004, 2005
Silverado 2003, 2004, 2005, 2006
SSR 2004, 2005, 2006
Suburban 2003, 2004, 2005, 2006
Tahoe 2003, 2004, 2005, 2006
Rastreador 2003, 2004
Trailblazer 2002, 2003, 2004, 2005, 2006
Venture 2003, 2004, 2005
GMC grupos de instrumentos
Denali 2003, 2004, 2005, 2006
Enviado años 2003, 2004, 2005, 2006
Sierra 2003, 2004, 2005, 2006
Top Kick 2003, 2004, 2005, 2006
Yukon 2003, 2004, 2005, 2006
Hummer grupos de instrumentos
H2 2003, 2004, 2005, 2006
Isuzu grupos de instrumentos
Ascender 2003, 2004, 2005, 2006
Oldsmobile grupos de instrumentos
Bravada 2003, 2004
Silhouette 2003, 2004
Pontiac grupos de instrumentos
Aztek 2003, 2004, 2005
Bonneville 2003, 2004, 2005
Grand Am 2003, 2004, 2005
Grand Prix 2003, 2004, 2005
montana 2004, 2005
Sunfire 2003, 2004, 2005
Preguntas más frecuentes:
1. Q: ¿Cuánto tiempo tarda el proceso?
Ofrecemos 24 horas inmovilización en el suelo y en el lugar de servicio está disponible por cita!
2. Q: ¿Cambiará mi kilometraje?
R: No. Su kilometraje del vehículo no se verá afectada.
3. Q: ¿Usted tiene una garantía? ¿Por cuánto tiempo es?
R: Sí, nuestra garantía estándar es de 5 años o 80,000 millas y estamos detrás de nuestro trabajo al 100%.
TENDRÁ UN CAMBIO COMPLETO DE TODOS LOS MOTORES EXISTENTES:
- Todos los motores van a llevar a cabo TARDE O TEMPRANO PARA QUE LO HAGA bien la primera vez!
Nuestros competidores pueden ofrecer servicios a partir de $ 90 a 100, pero esto es para el reemplazo de un solo motor! Usted tendrá que tomar de nuevo antes de que te des cuenta y hacerlo todo de nuevo!
Tenemos que hacerlo bien la primera vez!
Reparar procedimiento ……
* Usted puede traer a su grupo a nuestra oficina.
* El cluster será desmontada y limpiada.
* Vamos a sustituir del todo malo motores paso a paso con las versiones nuevas y actualizadas.
* El indicador de velocidad será calibrado cuando haya terminado.
* Este viene con una garantía de 5 años en todas las piezas y mano de obra!
Nuestro servicio no es el más barato que se puede encontrar, pero esto es un trabajo de calidad con los mejores motores en el mercado y se obtiene una GARANTÍA DE LOCAL!
UNA VEZ MÁS! NO CAMBIAR SOLO EL MOTOR QUE ACTUALMENTE ES CULPABLE COMO TODOS LOS MOTORES fallará en algún momento!
Llámenos de lunes a sábado para concertar una cita!
770-509-4862
Reparación Velocímetro Classic
www.classicspeedo.com